Date & Time
The System — Date & Time
page allows you to manually set the Date and Time on your jetNEXUS ALB-X. You can also configure a network time server to synchronise the
time on your appliance.
The page is organised into the two sections below.
Date & Time
In this section you can view the current Date and Time. This is usually set for Universal Time Zone or UTC but you may change this to your local time zone.
Time Zone:
Click on the drop down box for the Time Zone and start typing your location.
Example London
Start typing L – All location containing the letter L will be displayed
Continue typing Lon – the above locations will be narrowed down to  around  4 locations
Choose Europe/London to set your location
Set Date and Time: If the Date and Time is still incorrect after the above change please change the date manually
Choose the correct date from the first drop down or alternatively you can type the date in the following format DD/MM/YYYY
Add in the time in the following format hh:mm:ss
Once you
have set this please click Update to apply.
You should then see the new Date and Time in bold

Time Server
In this section you
can configure a time server to keep the jetNEXUS ALB-X synchronised.
Network Time Protocol (NTP) is a networking protocol for clock
synchronisation between computer systems over variable-latency
networks.
Time Server URL:
Choose the IP address or fully qualified domain name or the NTP server.

Update at [hh:mm]
Select the time that you would like to first access the time server to synchronise.

Update Period [hours]:
Select how often you would like synchronisation to occur.

NTP Type:
Public SNTP V4 – This is the current and preferred method when synchronising with an NTP server. 
RFC 5905
NTP v1 Over TCP –  Legacy NTP version over TCP.
RFC 1059
NTP v1 Over UDP – Legacy NTP version over UDP.
RFC 1059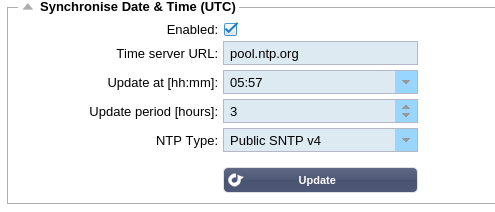 The example above would synchronise every hour at 7 minutes past the hour with pool.ntp.org. Please not that synchronisation is in UTC only. If you wish to set local time this can only be done manually. This will be changed in later versions to enable the ability to select a time zone.