Software updates are easy.
Software can either be downloaded by the Appliance or manually download over the internet. All our downloads are securely 3DES encrypted for specific machines.
Latest Version
The latest version of the EdgeADC firmware is 4.2.10 Build 1935.
You can view the RELEASE NOTE by clicking here: View Release Notes
Online
If the device can connect to the CSM (Cloud Service Manager) it will validate the support contract and then list the available downloads.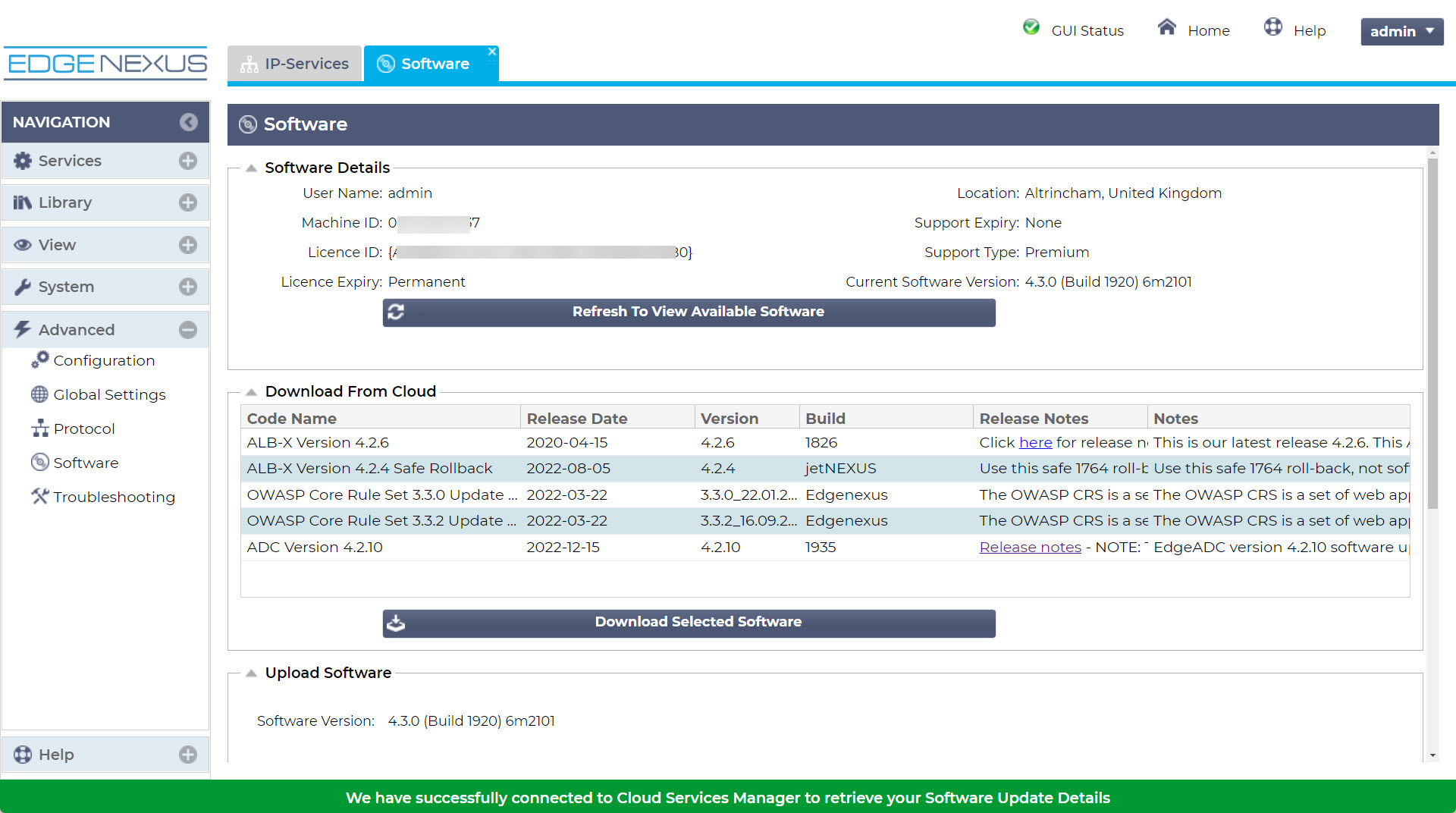 You can then select an image to download. Once its downloaded you can select it and then apply it. You can also revert to previous versions. Software updates will automatically restart that will result in some downtime (1-10s)
Offline
If the device can't connect to the internet then you will need to download the software manually from a machine that can access the internet.  You will need the manual download link below.  Once downloaded login to the ALB GUI (or REST) and then upload it.
You will need your Machine ID and Licence ID
Send an email to support@edgenexus.io and request the latest update. Make sure that you include the License ID and Machine ID.
You will be sent the link once your support contract has been verified as valid.
Once you have it simply login to the Appliance and upload.
Questions on older version upgrades
I'm on an older version of software, is there a direct migration path to the new release?

It depends on which version you are currently running.

If you are running ALB-X v4.1.x, it is possible to upgrade to v4.2.x from the update file. We recommend the following steps:

Contact support@edgenexus.io with details of your current software version

Navigate to Advanced — Software page and upload software

PLEASE NOTE: Whilst this update file will provide the latest version of software, unless you build from scratch, you will miss out on platform updates.

Currently there is no direct upgrade path, therefore customers on a software version below v4.1.x will require a new Installation. We recommend the following steps:

Download a trial version from our site and set up a separate environment in parallel.

Use the Video Tutorials and User Guides found on Here to set up your ALB-X v4.2.x

The trial version is exactly the same as the full production version of the product from a feature and functionality perspective. To go into production you'll need to apply your original, valid licence.

Will my existing licences still work?

Yes. For virtual machines you need to ensure that the IP addresses of the appliances remain unchanged. Simply upload the original licence file onto the new appliance.

Will I lose all of my configuration settings and certificates during the upgrade?

No. During the upgrade, your configuration settings will remain on the ALB-X.

What if I'm building from scratch?

You can import your existing configuration settings onto your new appliance for ease-of-use and speed to deployment. SSL certificates must be imported separately.

What resources are available to me for version 4.2.0?
Need Technical Assistance?

If you have a support issue and require technical assistance please email the support team with details.

Please email support@edgenexus.io to log a ticket and request a call back.