Configure History
The Configure—>History page allows you enable historical data logging for such things as CPU, Used Memory, Requests per second and so on. Once you have enabled this you can view the results in graphical form via the Monitor–> History page. This page will also allow you to backup or restore your history files to the local ALB-X.
Enable Historical logging
1.Tick the box at the top of the page to enable historical logging.

2.Choose the interval at which data will be logged. This value should be between 1s and 60s
3.Click Update to save these settings
4.Go to Monitor-History to create the graphs from these data points
Maintenance
This section will be greyed out if you have enabled historical logging. To allow the maintenance of the historical logs please untick the Enabled Box and click Update.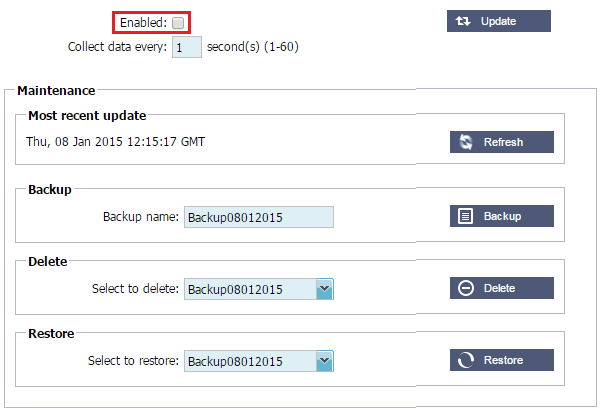 Backup
Give your backup a descriptive name. Click Backup to store all files to the jetNEXUS ALB-X
Delete
Select a backup file from the drop down list. Click Delete to remove the backup file from your ALB-X
Restore
Select a previously stored backup file. Click Restore to populate the data from this backup file

Back to Top